This day trip is designed for those who wish to enjoy a day visiting the region of TUSCANY and learning about wine-vinegar and olive oil , Discover the city from the comfort of our air-conditioned  car We'll take you on a visit to square ,Piazza del  Campo, the home of the Palio delle Contrade, the famous horse races that occur twice a year,  visiting the Duomo and quickly jump to S. Quirico D' orcia where you can spend a quiet lunch with a typical region products ,after  we move to  Montalcino where you can visit the winery cellar of "Brunello di Montalcino"
You can design your personal tour as you want, respecting your interest and pace. We can consider Siena the second most important tourist city in Tuscany after Florence  Siena is a medieval city in the region of Tuscany, located in the north of Italy some 70 km (43 mi) south of Florence. It is probably best known for a colourful horse race, Il Palio, conducted twice each year in the summer.
The Piazza del Campo, the unique shell shaped piazza at the centre of the city, and twice a year the racetrack for the Palio.
The Palazzo Pubblico, Siena's City Hall for almost 800 years, contains (amongst many other things) the famous frescos on good and bad government by Ambrogio Lorenzetti, frescoes by Simone Martini and Duccio, and access to the Torre del Mangia, from whose top you can view a beautiful panorama of the Sienese countryside.
The Duomo, Siena's magnificent black and white Italian Romanesque cathedral including the Libreria Piccolomini, Baptistery (separate entrance and charge), and an attached Museo dell'Opera del Duomo (separate entrance and charge) [5] which includes the famous Maestà by Duccio. After you've seen all the art, you can also treat yourself to a beautiful panorama from Il Facciatone in the museum.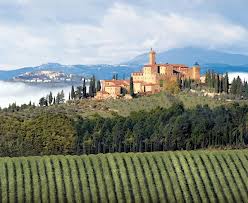 At the end of the sightseeing of Siena town we can move outside (half hour drive) to :  San Quirico d'Orcia, named after Saint Quiricus, is based in the Val d'Orcia natural park at the northern edge of Val d'Orcia area in southern Tuscany. Its surrounding walls result from its use as a military outpost in the 1550s; however its centre houses a medieval plan and includes the Romanesque Churches of Collegiata ad Santa Maria dell'Assunta, Palazzo Chigi, Church of San Francesco, and the Ospedale della Scala. The latter of these is a monument to the pilgrimage along via Francigena, the road on which the town is located but also more importantly the road which linked Rome with Canterbury.Only now we can arrange the visiting of a typical Tuscany "cantina" . Montalcino  Brunello Wine Tour Adventure,. Impressive from a distance with its broken-toothed fortress on a high hill, Montalcino turns out to be surprisingly tiny when you get close. It has a few sights and churches but what we really go for is to sip the famous Brunello wine.